UWC South East Asia
5,600 Students
Aged 4–18 years
3 March 2017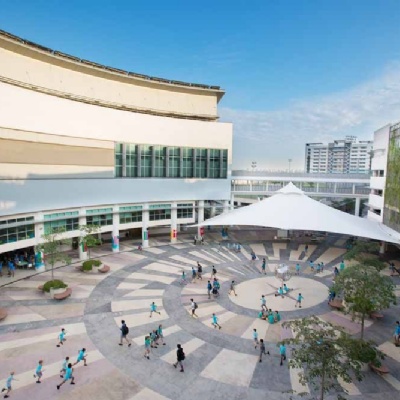 Opened in 1971 as Singapore International School by then Prime Minister Lee Kuan Yew, UWC South East Asia (UWCSEA) became a full member of the UWC movement in 1975, expanding to include Primary students as young as 4 in the 1990s and adding a second campus in 2011. UWCSEA today extends over two campuses, welcoming students from over 100 nationalities to communities of day and boarding students. The multilingual community is enriched each year by an intake of 600-800 new students who join at all grade-levels.
Three Unique Features
Diversity - UWCSEA's learning program immerses all students in the UWC mission and values. All students are selected for admission based on deliberate diversity, including factors such as culture and life experiences. From the age of 4, the UWCSEA learning program provides an ideal platform for the development of intercultural and interpersonal understanding.
Vibrant Location - The city-state of Singapore, with its small size and central location as a global hub in Asia, provides opportunities for students to become immersed in the Singaporean community on their doorstep while connecting to communities in surrounding countries throughout Asia.
K-12 concept-based curriculum - Four of our five elements in the UWCSEA learning programme - Academics, Outdoor Education, Personal and Social Education and Service - have an articulated curriculum from K1 to Grade 12, leading learners through an intentional, holistic education programme based on interdisciplinary and experiential learning approaches that lead to the IBDP.
In the Classroom
As both the starting point and the end goal of a UWCSEA education, the UWC mission guides every decision about learning. The educational goal to provide a holistic, values-based education that supports students to develop as individuals and as members of a global society is the basis of all classroom learning and shapes the content in the academic curriculum.
The wellbeing and learning principles create an environment in which students can develop knowledge and understanding through the five elements of the UWCSEA learning programme, which consists of five interlinking elements: academics, activities, outdoor education, personal and social education, and service. While students do not spend an equal amount of time on each of the elements (for much of the year, the academic element takes up most of the day), equal value is placed on them.
The programme strives to give each student age-appropriate opportunities to develop qualities and skills, and the concept-based K-12 curriculum is common across both campuses. Students are led through age-appropriate learning across each academic discipline, with the intent to develop knowledge that will support successful study in the IB Diploma in Grade 11 and 12, and beyond.
An extensive Home Languages Programme supports multilingual students of all ages who are speakers of languages other than English to maintain their home language. It's aim is to create opportunities for students to maintain and develop both academic and communicative language skills should the student wish to join the bespoke UWCSEA First Language Programme offered in the Grade 9 and 10 academic programme in preparation for study of the language in the IBDP.

UWCSEA's High Schools offer the International Baccalaureate Diploma Program (IBDP) for Grade 11 and 12. Students joining the College in Grade 9 complete a two-year programme, while a Foundation IB course is offered to students joining in Grade 10. Alongside standard courses, UWCSEA offers Dutch, Hindi, Indonesian, Japanese, Korean, Chinese, French, German, Spanish and Russian language options, and Design Technology, Computer Science, Environmental Systems and Societies, Global Politics, Psychology, Philosophy, Sports Exercise and Health Science, Dance, Film, Music, Visual Arts and Theatre.
Outside the Classroom
UWCSEA's learning environment has been crafted to support well-being and therefore effective learning, with a focus on ensuring each student feels valued, cared for, secure and supported. The aim is to help students develop strong social and emotional skills so they are better equipped to manage themselves, relate to others, develop resilience and a sense of self-worth, resolve conflict, engage in teamwork and feel positive about themselves and the world around them.
Students are regularly given opportunities to observe and investigate the natural world around them while safely challenging their own capabilities, both independently and in collaboration with others. For all grades, this includes exploring the campus gardens and other natural spaces as part of the school day.
All students are engaged in age-appropriate, service learning activities, linked directly to our K–12 curriculum, as well as to other elements of our UWCSEA learning programme. While the service interactions across our campuses are different, regardless of campus, school, grade or classroom, all students are striving in each of the three areas of learning identified in our service curriculum:
Awareness - preparing to act
Systems thinking for sustainable development
Taking action - being a changemaker
Developing compassion and responsibility, the Service programme allows students to put UWC values into action as they engage in rewarding experiential learning opportunities guided by the service learning curriculum.
At the very heart of the UWC mission, service enables students to actively contribute to resolving social and environmental problems, both locally and globally. As students deepen their understanding of why these problems exist, they are guided to realise that everyone can play a part in taking informed, purposeful action to resolve them.
Both within and beyond the campuses, all students also take on experiential challenges that build resilience, collaboration and leadership through a carefully planned incremental progression of age-appropriate Outdoor Education experiences.
Opportunities for learning are then extended as students take on experiential challenges that build resilience, collaboration and leadership. Whether exploring the natural environment on campus in K1, learning about water filtration in Grade 3 or taking on our High Ropes course in Grade 8, students develop confidence in their physical abilities and the emotional resilience to withstand difficult situations.
Achievements in outdoor education are recorded through student reflections and demonstrated in the character, skills, qualities and maturity that students develop and apply across all aspects of the learning programme and in their lives. UWCSEA is partnering with Oregon State University-Cascades to conduct a longitudinal study into the impacts of outdoor education. Interim findings present compelling evidence in support of the long-term benefits for students of an intentional Outdoor Education programme.
Another vital part of student life and learning, the multifaceted Activities programme provides students with opportunities to explore new interests, develop their strengths and pursue their passions. They can do this through existing activities, or by finding students and staff who will join them in starting a new one as they make like-minded friends and interact with students from other grades and parts of the school.
Short Courses
The Initiative for Peace (IfP) was founded in 2001 to promote peace in global, national and regional conflicts. The annual conferences are hosted by Grade 11 students following a year of preparation. Students from both campuses receive training from specialists in the fields of public administration, conflict resolution and negotiation, and historical perspectives in order to facilitate events for youth leaders from the host country.
UWCSEA has made an IfP toolkit available for educators and other youth leadership organisations who wish to replicate and adapt the programme in their own context and communities.

Campus and Facilities
Both campuses offer exceptional facilities suited to the hands-on and technologically integrated learning programme. From classrooms, resource centres and libraries equipped with state-of-the-art technology and tools, to professionally equipped performance spaces, to outstanding sporting facilities, the environment has been designed to support all five elements of the UWCSEA learning programme.
Whether purpose built, as in the East Campus, or having reimagined existing infrastructure on the site of the former St. John's Army School in the case of Dover Campus, both locations have shared learning spaces that help to create a community. Age-appropriate facilities allow all students multiple opportunities to access authentic learning experiences in their immediate environment.
The GreenMark Platinum Super Low Energy certification held by both campuses means they have achieved the highest 'green building' standard in Singapore, and continue to operate within benchmarks set to contribute to Singapore's ambitious sustainability goals. Environmental and design aspects of the buildings are integrated into the learning programme wherever possible, helping to bring to life both systems thinking for students and the College's sustainability agenda to develop students as environmental stewards.
Dover Campus was established in the existing St John's Army School in 1971, and features many mature trees and plenty of open spaces. While the campus has transformed over a multi-year refurbishment project, the Tent Plaza remains the social heart of the campus. There are three boarding houses, Kurt Hahn House, Nelson Mandela House and Malala Yousafzai House, which host over 190 boarders in Grades 8 to 12.
Opened in August 2011, the East Campus is a purpose-built facility that, in keeping with UWC's sustainability goal, continues to set global benchmarks in design, innovation, accessibility and environmental impact for schools. Tampines House, a multi-story boarding house that overlooks the campus, hosts about 160 students in Grades 8 to 12.
Geographic Setting
Dover Campus occupies 11 hectares in Clementi, west of the central business district and next to the National University of Singapore. The East Campus is set on 5.5 hectares in Tampines, a fast-developing northeastern hub near Changi Airport.
Admissions
Most students are admitted directly, taking into account the UWC mission by deliberately recruiting students who are committed to the mission and vision of the School from a diverse array of backgrounds, nationalities and life experiences. Scholarship students are in most cases selected via the UWC national committee system. Most of them join for the two-year IBDP, however, a smaller number of students join on 5 or 3-year scholarships (in Grade 8 or Grade 10) to be granted appropriate preparation for the IBDP. For more information about applying to UWCSEA, visit the website.
Contact Details
---
Dover Campus
1207 Dover Road,
Singapore 139654
East Campus
1 Tampines
Street 73,
Singapore 528704